trevor mcclaughlin – Australia | LinkedIn

https://au.linkedin.com/pub/trevor-mcclaughlin/26/431/135
Since the late 1970s I've been working on the Earl Grey Irish famine orphans. Some might say it is my misguided attempt to take history outside the Academy. As one of my old Professors R.B.McDowell said, history has to be more than professional historians sitting in a locked room talking to one another.
In the 1980s, with help from Macquarie University and the Australian Research Grants Scheme (ARGS) I was able to gain access to Birth, Death and Marriage records in New South Wales and Victoria, and pay someone to research the vital statistics of orphans who went to Queensland. This work, research in Ireland whilst on sabbatical leave, and information from family historians was the basis of my 2 volumes, Barefoot & Pregnant?, published in 1991 and 2001/2. Note the question mark.
The orphans' 'story' has often attracted the media. In 1987 I participated in a BBC Northern Ireland programme on the orphan girls with the great Pat Loughrey, and in another, for BBC's "Women's Hour" in 1994. In 2001 I also had the privilege of appearing in Siobhan McHugh's excellent Radio National programme. It was broadcast again on 'Hindsight', 11 August 2013. To hear it, you may need to download it from the ABC Radio National website:
http://www.abc.net.au/radionational/programs/hindsight/the-famine-girls/4857904
The SBS Television series, "The Irish Empire", c.2000 also had a small place for the orphans, in Episode three. As did the ABC Compass programme, 'An Aussie Irish Christmas' 25 December 2006.
More recently, in 2013, Barrie Dowdall's very successful film series for the Irish Language channel, TG4, "Mná Díbeartha" gave an important place to the young famine orphan 'girls'. It had a successful 'repeat' on www.tg4.ie in May 2015.
See http://www.convictwomenandorphangirls.com where you can buy a DVD of the series.
On Christmas day 2016 Radio Kerry devoted an hour long programme on Kay Caball's "Kerry Girls", produced by J.J. O'Shea'. It soon became available on podcast
at http://mykerryancestors.com/kerry-girls-christmas-2016/
Writers, too, are fascinated by the orphan girls' story. In the early 1990s, J. P. Rooney's play, Permanent Deadweight had a successful run with the Charabanc Theatre Company. Prize winning author Kirsty Murray put an orphan girl as the principal character in her Bridie's Fire, the first in her Children of the Wind series.
Jaki McCarrick's play, Belfast Girls, has already achieved international renown. It had a great run in London in 2012. In May-June 2015 it played to rave reviews at the Artemisia theatre in Chicago.
See https://www.youtube.com/watch?v=0p4pNJFrsTE Plans are afoot to develop the play into a film; Jaki has now finished the screenplay. The Canadian premiere of the play occurred in British Columbia in 2017.
During the Northern fall (autumn, 2017) it was interpreted by actors in Portland, Oregon, and Pittsburg, Pennsylvania. In 2018 and 2019 Belfast Girls 'came home' to Australia, to Mittagong and Queanbeyan, where it was performed to great acclaim. Its premiere in Sweden is scheduled for November 2019.
The inimitable writer, Aosdana member Evelyn Conlon, published Not the Same Sky (Wakefield Press) about the orphan girls which was launched in 2013 at the International Famine gathering in Sydney. In May 2015 it had another very successful 'launch' in both Dublin and London.
Other outstanding events celebrating the young women include the re-enactment of the arrival of the Thomas Arbuthnot orphans at Hyde Park Barracks by Richard Reid, Cheryl Mongan and the Yass Historical Society in 1996.
That same year Richard and Cheryl published their ground-breaking 'a decent set of girls…' The Irish Famine orphans of the Thomas Arbuthnot. Richard's book, "Farewell my Children" (2011) puts the story in a larger context. In 2015, Kay Caball's Kerry Girls and Barbara Barclay's
website www.mayoorphangirls.weebly.com
Both show the way forward for local studies which is a very good way to go.
For future development of the subject may i suggest using public or applied history? Here is a diagram from the Institute of Historical Research that illustrates perfectly what i mean.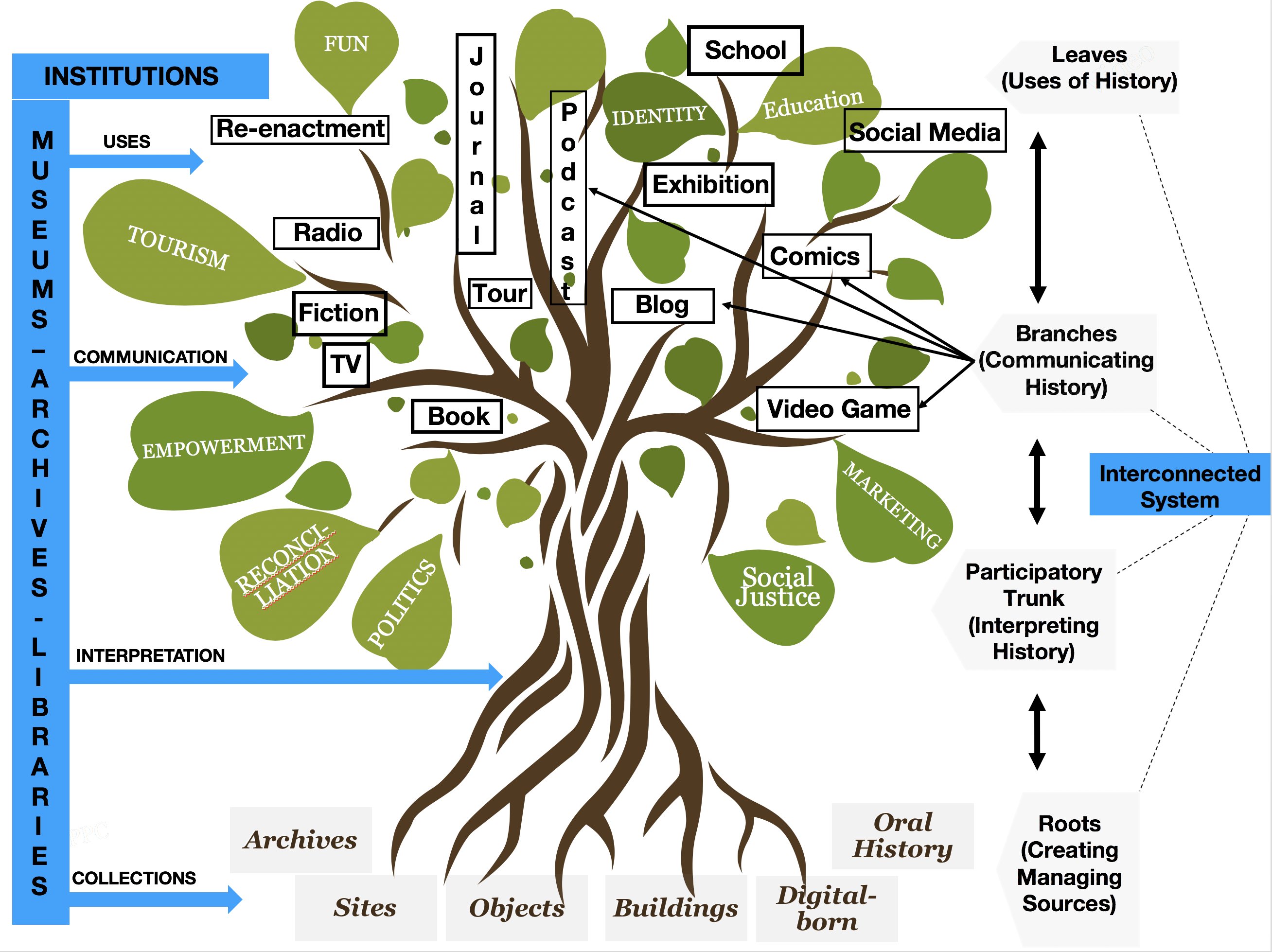 But back to events, Gary Crockett of Sydney Living Museums curated a long running, highly successful exhibition at Hyde Park Barracks; see http://sydneylivingmuseums.com.au/stories/irish-orphan-girls-hyde-park-barracks

Another exhibition opened in 2014 at the same place, curated by Fiona Starr, on "Emigrant women at Hyde Park Barracks"; it displayed one of the boxes which an orphan brought with her from Ireland over 160 years ago.
Through the 'noughties' I had the privilege of working closely with the late, great Tom Power, and the Great Irish Famine Commemoration Committee. The Irish Famine Monument in Sydney became a reality in the late 1990s because of Tom and his committee. There is a 'gathering' at the Hyde Park Barracks monument each year on the last Sunday of August.
With the technical expertise of Jennifer Bainbridge I was able to set up the first version of www.irishfaminememorial.org website in 2007. The Great Irish Famine Commemoration Committee, and website continue to flourish and expand in the capable hands of Patricia Strong and her team. Patricia succeeded Perry McIntyre in 2015, and returned the leadership to her in 2019. Perry continued her research on the Earl Grey orphans, and made sure the website had the most up-to-date information on the orphan database. In 2020 the reins were taken over by Trish Power who has new and interesting ideas to pursue. Please help in whatever way you can.
Melbourne has an annual celebration at the Famine Rock, Burgoyne Park, Williamstown, in November each year, commemorating the c.1600 orphans who arrived in Port Phillip. For 2019, the Irish Famine Orphan Girls Commemoration will take place on Sunday 17 November from 2.30pm, Famine Rock, Burgoyne Reserve, The Strand, Williamstown, Melbourne.
From September 2019 the online Irish- Australian magazine Tinteán is presenting a series of Earl Grey Orphan Girl histories. Written by their ancestors, the stories tell what became of the the young women in Australia.
With so many young people emigrating from Ireland in recent times, the Famine orphans are striking a chord in the collective psyche once more. Though this time they are returning home.
This blog is my attempt to set down what I know about Earl Grey's Famine orphan scheme. You are not compelled to take my word on anything.